Wood vs Vinyl Fence – Pros and Cons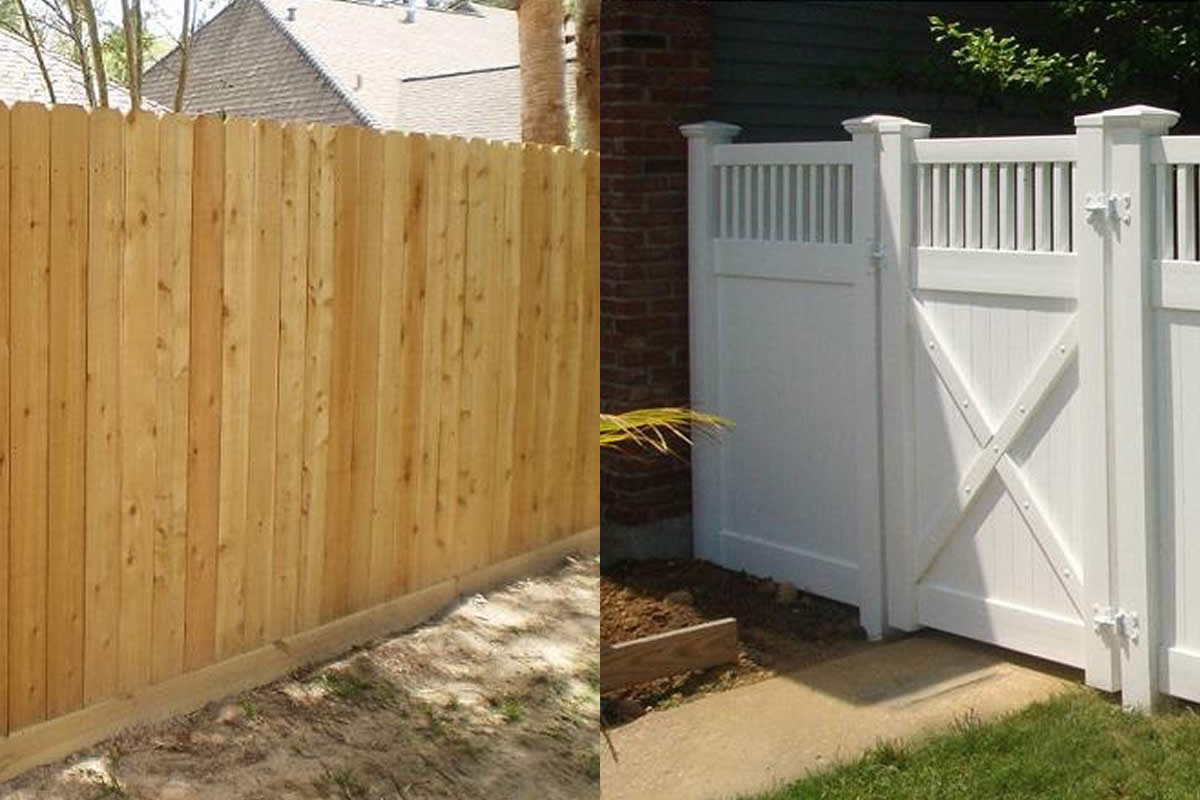 When replacing a beat-up fence or putting up a fence in your home for the first time, many homeowners find themselves at a loss when it comes in choosing between a Vinyl fence or wooden one. Whether you opt for a wooden fence or a vinyl one, you have still made a good decision. Fencing contractors in Orlando would always tell you a fence is like a coin. They have their pros and cons. Below are some things to put into consideration when making your decision.
Pros of Wood Fences
Wood fences are classic and will automatically enhance the beauty of any home. These fences are available at a guilt-free price and are easily installed. Wooden fences give you a wide range of color choices from. There are different types of lumber used in the craft of wood fences, but cedar is one of the most common lumber used. Cedar is organic and blends well with almost every environment.
If you are a lover of nature, cedar goes well with flowers for an amazing natural look Wooden fences are easy to personalize and decorate. Setting up a wooden fence is fun when the whole family is involved. It gives everyone the opportunity to light up his/her creativity. With just woods, hammers and nails, a wooden fence can be easily repaired. But do not go ahead doing the repair yourself, you may worsen it or hurt yourself. We suggest you call for the services of a reputable fencing contractor in Orlando for a perfect repair and maintenance of your fence.
Cons of Wood Fences
A wood fence requires regular maintenance for it to be in good shape. Wooden fences are prone to rot after some time. To avoid a rotten wooden fence, it is essential for you to reapply paint within short intervals. Woods are snacks to termites like crickets, ants etc. and this can expose your home to termites. If not properly installed, the posts of a wooden fence can easily wrap.
---
Pros of Vinyl Fences
If you are not a lover of woods and you want a give your home that fresh and modern look, Vinyl fences suits you perfectly. Just like wood, vinyl fences are available in different colors such as gray, tan and white. Vinyl fences do not require painting and are easy to install. Unlike wooden fences, Fencing contractors in Orlando will always tell you vinyl fences are easy to maintain due to their non-porous surfaces which allows dirt to be easily sprayed off.
If you live in a neighborhood full of naughty teenagers who don't think twice before daubing fences with graffiti, it is best you use a vinyl fence because it as a glossy surface which makes it easy to remove graffiti. Vinyl fences are fire resistant and they don't invite termites.
Cons of Vinyl Fences
Unlike Wooden fences, Vinyl fences are quite expensive. Vinyl fences tend to bend, twist or expand after heavy rainfall, snowfall or a strong wind. Repairing vinyl fences can be very complicated. Unlike wooden fences that you can just replace a damaged board when a vinyl fence begins to go out of shape, you may find yourself doing an all-out replacement instead of a simple repair.